Today begins a new series of posts for the Bay-PAH blog — Puppy Interviews! And Handler interviews. And maybe even interviews with those crazy cat critters…
First up is Silver Marenwolf!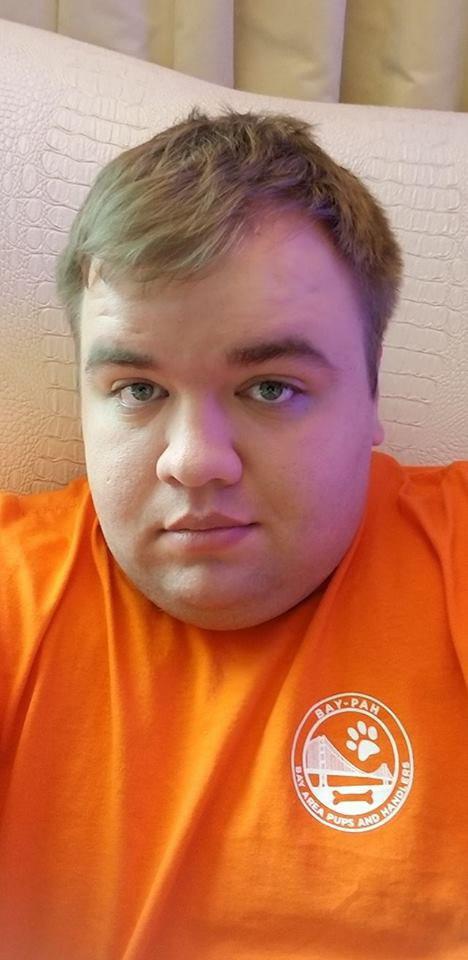 Silver joins us from the California Central Valley. He can be found on Facebook at https://www.facebook.com/TheSilverMarenwolf, and on Twitter at https://twitter.com/SilverMarenwolf
Welcome Silver! Could you please introduce yourself?
My name is Silver Marenwolf, and I'm an Alpha Pup/Hander in the Puppy community! I currently reside in the Central Valley of California. I've been in the BDSM/Puppy Play community for 10 years. I am a runner-up for 2018 Handler of the Year from International Pup & Handler Weekend
How did you become involved in human puppy play?

I have always had an interest in the pet play community, ever since becoming involved in the BDSM community. After years of serving as a Service Submissive (Butler) to a home. I felt myself wanting more, wanting to evolve into something, with learning and going to events.  I guess you can say I dove head first into the community and have not gone back since then.
Do you consider yourself to be a pup, a handler, both, or something else?

I mostly identify as a Handler, but I do and have been known to get on the mats and let my puppy side shine!
What are the top things you enjoy about human puppy play?

The ability to meet different people from all walks of life and put everything aside for a common interest.  Socializing with people that normally you would never think to socialize with. Traveling to events to meet other pups/handlers and see their dynamics in their relationships/life.  Getting on the pup mosh mats and wrestling around. (Having socks stolen if you are a handler…trust me sometime it is going to happen to you if you are a handler =D )
Are you a member of a pack?

Yes, I am Alpha of " The House of Marenwolf"
What do you like best about your pack?

We are a family, we support each other in life and never let a member feel as if they are less than another.  I moved to California knowing almost no one. If it wasn't for my pack I would still be alone. They have given me a family to talk to, and have been there for me during my birthday, holidays, and emotional needs.
Has your involvement in human puppy play impacted other aspects of your life?

I have become the owner to a very large furry telegram text-based BDSM chat-room, leader of a Kink 101 group, and internet based PAH Group. I believe in making a place where all can go for Safe, Sane, and Consensual Kink where they can understand the risk involved within the BDSM, Puppy Play Community, and Furry Community.

I spend so much of my free time educating myself about all aspects of BDSM even if I am particularly uninterested in the kink/fetish myself. This is due to the need to know more. My mind is hungry for knowledge. I will never stop learning.

You see a squirrel; what do you do?

I have been known to bark, chase, and point it out for other pups to join in the fun of chasing those little squeaky toys made by the handler in the sky!

Do you have any advice for new or curious pups and handlers?

The strongest bit of advice I could give anyone entering into the puppy play community is to be open and honest with yourself and those around you. You don't have to have gear to play around with other pups. You don't have to be owned or own others. You are welcome and loved just as you are. This community is built to allow you to have Safe, Sane and Consensual place to let go of the outside world, and escape into the mind of the puppy within you! You never have to fear the threat of being shamed for who you are. Not all pups come in the same shape size, race, background, orientation, etc.

What is your favorite color?

Pink: this color is used for compassion, love, playful nature, admiration. It can communicate energy, increase pulse, encourage creativity, and motivate action.

Thank you Silver! I am grateful for you taking the time to answer these questions. You are due at least one extra belly rub next time we meet 🙂